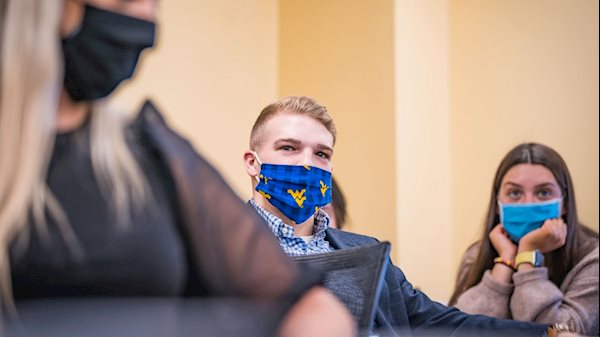 A new legacy of healthcare leaders will cross the stage during the West Virginia University School of Public Health commencement ceremony on Friday, May 13, at 4 p.m. in the Canady Creative Arts Center.
Eleven students make up the first cohort of WVU's Master of Health Administration program. Piloted in 2020, the MHA program focuses on the organization, delivery and management of healthcare and public health systems, as well as equipping future healthcare leaders with a deep understanding of the principles and practice of public health.
"The graduation of our first class of MHA students not only marks the culmination of nearly five years of work by the School of Public Health, but also signals the commencement of the next generation of healthcare leaders in West Virginia," said Erik Carlton, senior associate dean for academic and student affairs. "These students are among the best and brightest I've taught in nearly two decades in higher education. I cannot wait to watch the way they help transform healthcare in West Virginia and beyond."
The MHA program prepares graduate students for success as administrative leaders in the health sector, requiring courses in health services and operations management; leadership and organizational behavior; health policy; health law and ethics; healthcare finance; and health economics, among others.
In addition to being able to specialize in areas of interest to them, students also gain invaluable, real-world experience through the program's required internship component.
Nicholas McCardle, Pine Grove native and graduate of the School of Medicine's Health Informatics and Information Management program, completed his internship as an advocacy program assistant with Faces & Voices of Recovery, a nonprofit advocacy organization in Washington, D.C. His team focused on advocating for public policies and funding that supports substance use disorder recovery for all. 
"I was assigned special projects … one of these involved performing a readiness assessment and scan of a rural community for a recovery high school," McCardle said. "I helped to facilitate focus groups and one-on-one interviews with various community members and professionals, as well as research the current policy landscape in the area."
McCardle's findings allowed him to draft a report for their clients, providing them with next steps on implementing a recovery high school for the youth in the community.
"I am hoping to use what I have learned during my MHA curriculum to guide me in furthering my career and growing into leadership roles," said McCardle, who plans to continue working in the nonprofit sector.
Melissa Tolbert Yeso, from Martins Ferry, Ohio, was working for Novo Nordisk at the time of her internship, so was asked to create a Health Systems Playbook for the global healthcare company.
"[It] would be rolled out as a learning tool to the 3,500-person sales forces," Yeso said. "Not only was I involved with the development of the playbook, but I designed the Learning Models around population health, health systems, quality metrics and implementing health system guidelines."
More recently, Yeso has transitioned into a new role with McKesson/CoverMyMeds as its senior manager of business development for emerging biopharma. In addition to working with more than 350 new biopharma companies who are bringing pharmaceutical products to market, Yeso also sits on a team that has made the opioid crisis a priority.
"Because of my love for public health and public affairs, I am part of a team to help McKesson have a positive impact on their distribution role with the opioid epidemic," Yeso said. "Our team is working with states that have the highest rates of opioid overdoses, and we are helping to set up Narcan Loyalty Script programs so that at-risk patients have access to life-saving medication."
When asked about long-term career goals, Yeso doesn't have it pinpointed, yet, but knows her degree in health administration will guide her.
"If you would have asked me two years ago, I probably would have said CEO/COO of a hospital or working in an academic health system to help bridge the gap between medicine, health science and pharma," she said. "Right now, I am just finding ways to apply what I have learned in the MHA program to my leadership style."
Pictured above, top to bottom: Students listening to a lecture in 'Intro to Health Administration' during the fall 2021 semester (WVU Photo/Aira Burkhart); Erik Carlton, senior assoc. dean and assoc. professor, meets with a student (WVU Photo/A. Burkhart); Nicholas McCardle (submitted); Melissa Tolbert Yeso (submitted). 
---
-WVU-
CONTACT: Nikky Luna, Director of Marketing and Communications

WVU School of Public Health

304.293.1699
link