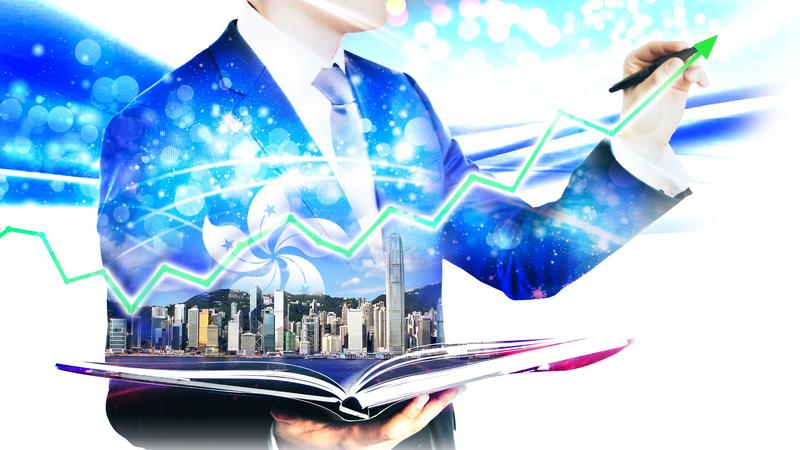 Hong Kong is launching new policies to bolster its economic competitiveness by wooing enterprises, investments and professionals. But these strategies still need to be improved to make them more effective. Oswald Chan and Liu Yifan report from Hong Kong.
In his first Policy Address delivered last week, Chief Executive John Lee Ka-chiu announced the setting up of new institutions and a slew of measures to boost the special administrative region"s long-term competitiveness that has been buffeted by the prolonged COVID-19 pandemic, rising geopolitical tensions, soaring global interest rates and increased volatility in financial markets.
Aggressive initiatives are to be taken to attract strategic enterprises, investments and professionals to Hong Kong to stem the exodus of talent and relocation of companies whose operations have been hit by a stuttering local economy.
The Hong Kong General Chamber of Commerce — the city's oldest and largest business organization representing about 4,000 companies in the city — describes the 2022 Policy Address as a targeted and fresh approach to address the challenges of attracting more enterprises and talent to Hong Kong.
Financial Secretary Paul Chan Mo-po will lead the new Office for Attracting Strategic Enterprises to woo global industries of strategic importance, such as life and health technology, artificial intelligence and data science, financial technology, and advanced manufacturing and new energy technology.
OASES, which is due to be established this year, will formulate steps to tackle aspects like land, tax and financing that can be applied exclusively to targeted enterprises, and help their employees apply for visas and arrange education for their children.
The HKSAR government aims to attract at least 100 high-potential or representative information and technology companies to set up or expand their businesses in Hong Kong in the next five years. That would include at least 20 top-notch innovation and technology enterprises that would invest more than HK$10 billion ($1.28 billion), creating thousands of jobs.
"In the past, Hong Kong has relied on fundamental factors, such as the rule of law and an efficient administration, to attract foreign direct investment. The government will now adopt a selective approach to lure FDI that can create new business value chains, jobs and new engines of economic growth, and diversify the economy," a government source says.
Chief Secretary for Administration Eric Chan Kwok-ki will head the Talents Service Unit, which will focus mainly on the strategic implementation of the measures. The unit hopes to lure at least 35,000 professionals annually to work in the SAR.
The government also decided to launch the Top Talent Pass Scheme, extend the limit of stay for holders of employment visas, refund extra duty paid by eligible professionals in acquiring residential properties in Hong Kong, and refine existing talent attraction programs to woo professionals back to Hong Kong to pursue their careers.
"We understand the importance of housing, tax and finance incentives in attracting and retaining global talent, especially senior professional people, in Hong Kong. We hope the incentives can support companies trying to bring in the best international talents," says Robert Speers, principal of financial services practice at global executive search firm Heidrick & Struggles Hong Kong.
Retaining talent
Besides luring professionals, retaining and helping them to integrate into Hong Kong society are equally important. "We hope the government will consider support in medical care, housing and children's education to help global talent integrate better into Hong Kong. The government could also create new opportunities for local students and talents through internships and further studies," says global professional services group Deloitte.
The SAR government should also introduce other effective and long-term policies to help people settle down in Hong Kong, says Rebecca Wong Shun-yee, PwC China tax and business advisory partner. In cultivating local talent, training programs could be conducted and training subsidies provided in emerging fields to meet employers' needs by creating a competitive labor force, and beef up emerging industries, she adds.
The Chinese Manufacturers' Association of Hong Kong suggests that the new Chief Executive's Policy Unit holds regular discussions with professionals arriving in Hong Kong to map out suitable policies. The government should further explore ways of facilitating barrier-free cross-border entry and exit of professionals from the Chinese mainland. This could be complemented by the advantages of the Guangdong-Hong Kong-Macao Greater Bay Area in resolving Hong Kong's poor living facilities and conditions, as well as the high cost of living, thereby making the city more attractive to overseas talents.
Hong Kong's workforce shrank by about 140,000 in the second quarter of this year, compared with the second quarter of 2020, according to government statistics. In the 25-39 age group, the number of workers fell by 78,000, while in the 40-59 age group, it dropped by 58,000. More than 60 percent of the diminished workforce requires managerial skills or technical skills.
The Labor and Welfare Bureau will conduct a new round of manpower projections to address overall labor demand in various sectors in the next five years. "Besides the economic and labor market trends, the government will also consider Hong Kong's 'eight centers' outlined in the nation's 14th Five-Year Plan (2021-25) in making the projections. We hope that the key findings will be available by 2024," a government spokesman says.
Pooling resources
At the macro level, the government will establish a Hong Kong Investment Corp that will consolidate the Hong Kong Growth Portfolio (HK$22 billion), the GBA Investment Fund (HK$5 billion) and the Strategic Tech Fund (HK$5 billion) under the Future Fund, as well as the new Co-Investment Fund (HK$30 billion), so as to support and attract more companies to develop their businesses in the SAR.
"In making strategic investments, we would like investee enterprises to make commitments on what type of technologies and investments they will bring and what kind of jobs they will create. The government will require long-term risk-adjusted returns from these investments, and the proceeds will be plowed back into the Co-Investment Fund for future investments," says Paul Chan.
The Federation of Hong Kong Industries welcomes the proposed Hong Kong Investment Corp, which will pool financial resources to invest in strategic industries with the aim of attracting more enterprises to the city and supporting them in building their operations.
The SAR government has also pledged a raft of initiatives to make Hong Kong a world inno-tech hub by providing funding to foster commercialization of research and development, creating the post of commissioner for industry, and speeding up infrastructure construction.
The CMA hopes the future commissioner can work out a forward-looking and comprehensive reindustrialization policy as soon as possible, emphasizing the need for coordinated development of information and technology, and industry.
The manufacturing business chamber also hopes the government can coordinate the development of the Northern Metropolitan Area by reserving land in New Territories North to build a demonstration base for Hong Kong's "advantageous industries" and a pilot-scale industrialization platform for inno-tech achievements with preferential terms. This will attract local and returning Hong Kong businesspeople and leading overseas enterprises to operate in Hong Kong.
In pursuing reindustrialization, Federation of Hong Kong Industries Chairman Sunny Chai Ngai-chiu stresses that the SAR must strengthen the complementary advantages of research, innofacturing and finance to enhance the advanced manufacturing value chain.
The reindustrialization push makes a lot of sense for the city's long-term goal of economic restructuring and diversification. As Mao Zhenhua, a professor at the HKU Business School, puts it, the local economy has an "unbalanced structure" that needs economic breakthroughs in high-end manufacturing, while sustaining the city's pre-existing financial and trade status.
"In the short term, as the pandemic eases, the local economy is expected to gradually bottom out," he says. "In the long run, however, the structural problem of the services sector, a major contributor to Hong Kong's GDP, will become prominent."
By leveraging Hong Kong's unique advantages through its connections with the Chinese mainland and the world, a simple tax regime and a sound intellectual property protection system, the city should adopt a "two-wheel" mode of developing the inno-tech sector, as well as the financial industry, says Mao. This would benefit the overall economic structure and promote diverse development.
Consolidating strengths
In trying to restore Hong Kong's luster as a top financial hub, the chief executive has rolled out a raft of initiatives to bolster the financial services industry — the traditional dominant economic pillar that accounts for more than one-fifth of the SAR's GDP.
The priority is to consolidate Hong Kong's financial strengths, ranging from fundraising, offshore renminbi business and cross-border investments to green finance, wealth management and financial technology.
It is believed that Lee will count on the world's superrich by getting at least 200 family offices to establish or expand their operations in Hong Kong by 2025. To this end, a bill offering tax concessions will be introduced this year.
Among other closely-watched initiatives, Lee has agreed to revise the Main Board listing rules next year to help fundraising by advanced technology enterprises that have yet to meet profit and trading-record requirements for going public.
Jacky Lai, assurance partner at Ernst & Young, notes that some technology enterprises with a primary listing status in the United States have returned to Hong Kong to seek a secondary listing or change their listing status in Hong Kong from secondary to primary. He expects this trend to prevail, given the city's relaxed regulatory environment.
"Launching a listing platform tailored for advanced technology enterprises that are still in their infancy will effectively enhance Hong Kong's attractiveness to potential advanced technology issuers and gradually establish the city's status as an innovation and technology fundraising hub," says Lai.
All these measures, combined with other steps like waiving the stamp duty for market makers to support trading in yuan-denominated shares via the Stock Connect, testify to the SAR government's commitment to buttress Hong Kong's position as a leading international financial center and a listing venue of choice, says Nicolas Aguzin, CEO of Hong Kong Exchanges and Clearing.
"The continued enhancement of our listing franchise and the development of a green and sustainable finance ecosystem continue to underpin the attractiveness of Hong Kong's capital markets," he says.
link