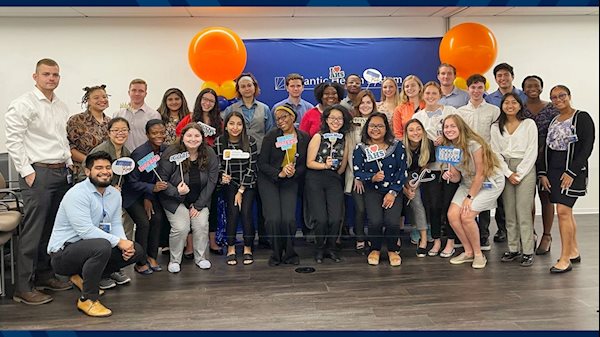 The COVID-19 pandemic has put a spotlight on the importance of public health and primary care systems and the growing need for highly-trained leaders in the ever-evolving health sector. Listed among the fastest growing occupations by the U.S. Bureau of Labor Statistics, employment for medical and health services managers is expected to increase at a rate of 32 percent by 2029.
Eager to meet the needs of his community, West Virginia University School of Public Health student Matthew Rivera spent the summer gaining valuable experience at his hometown healthcare system.
"I want to be able to get all the knowledge I can right now in my life, so I am able to give my all and more when I pursue my career in healthcare operations or administration," said Rivera, a junior in the B.S. in Health Services Management and Leadership program. "I want to be able to help build and grow a strong healthcare organization where patients are able to get the best patient quality and experience."
For ten weeks, Rivera joined Atlantic Health System as an intern in its Human Resources Department. The Spotswood, New Jersey, native was interested in the opportunity in part thanks to its national ranking and award-winning workplace environment – something he hopes to emulate throughout his future career.
Previous coursework in the School of Public Health provided Rivera with a foundation for many of his assignments, as he was able to directly apply knowledge from Social Determinants of Health, Terminology and Communication for Health Professionals, The U.S. Healthcare System and Introduction to Health Policy classes throughout the internship.
Rivera's experience allowed him to take on a leadership role in the redevelopment of the organization's student website. He coordinated events to enhance the intern experience and worked with fellow interns and system leaders to evaluate needs, improve the internship program and form job descriptions for future positions.
"The highlight of my internship was networking and connecting with multiple Atlantic Health System leaders," he said of the opportunity to interact with System members including executive officers. "They all gave me useful advice that I can use personally and professionally."
The experience also allowed Rivera to research underserved and rural populations to better understand their needs as employees of the health system. He was able to develop a list of veterans' organizations throughout the tri-state area as well as Historically Black Colleges and Universities (HBCUs) and Hispanic-Serving Institutions (HSIs) to identify opportunities for growth.
Rivera looks forward to more experiential learning opportunities in the future, throughout his undergraduate education and beyond. Following the completion of his bachelor's degree, he plans to earn a Master of Health Administration and pursue an administrative fellowship to gain further healthcare leadership experience.
Pictured at top: WVU student Matthew Rivera (fourth from right) joins Atlantic Health System summer 2021 interns to celebrate their achievements.
---
-WVU- 
jw/09/14/21
CONTACT: Nikky Luna, Director of Marketing and Communications

WVU School of Public Health

304.293.1699
link